Baguette Sprint
November 2022 | By Artist in Residence at Google Arts & Culture Lab: Simon Doury
How many baguettes can you collect?
Collection: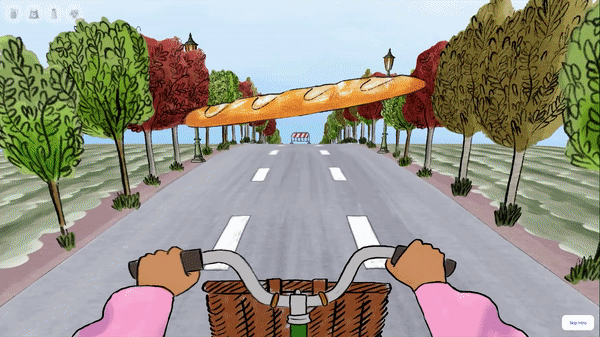 French baguette, with its crispy golden crust and fluffy crumb, is so embedded in the French way of life that the French Ministry of Culture is campaigning for the baguette to be on UNESCO's list of intangible heritage in autumn 2022.
To celebrate this icon of French culture, Google Arts & Culture built the
Baguette Sprint,
a racing game which invites the users to ride a bike in different regions of France and collect ingredients to make the perfect baguette. Be aware of obstacles on the road or you will end up with zero baguette and sent back to the bakery!
Google Arts & Culture partnered with specialist institutions, including Meilleurs Ouvriers de France and Confédération des Boulangers, to share what made it the most quintessential of French symbols – and how the savoir-faire is passed down through the generations.