Artists + Machine Intelligence Grants
April 2021 | By Google Arts & Culture Lab, Google Research
Google Arts & Culture and Google Research support contemporary artists working with machine learning in their art practices.
Collections: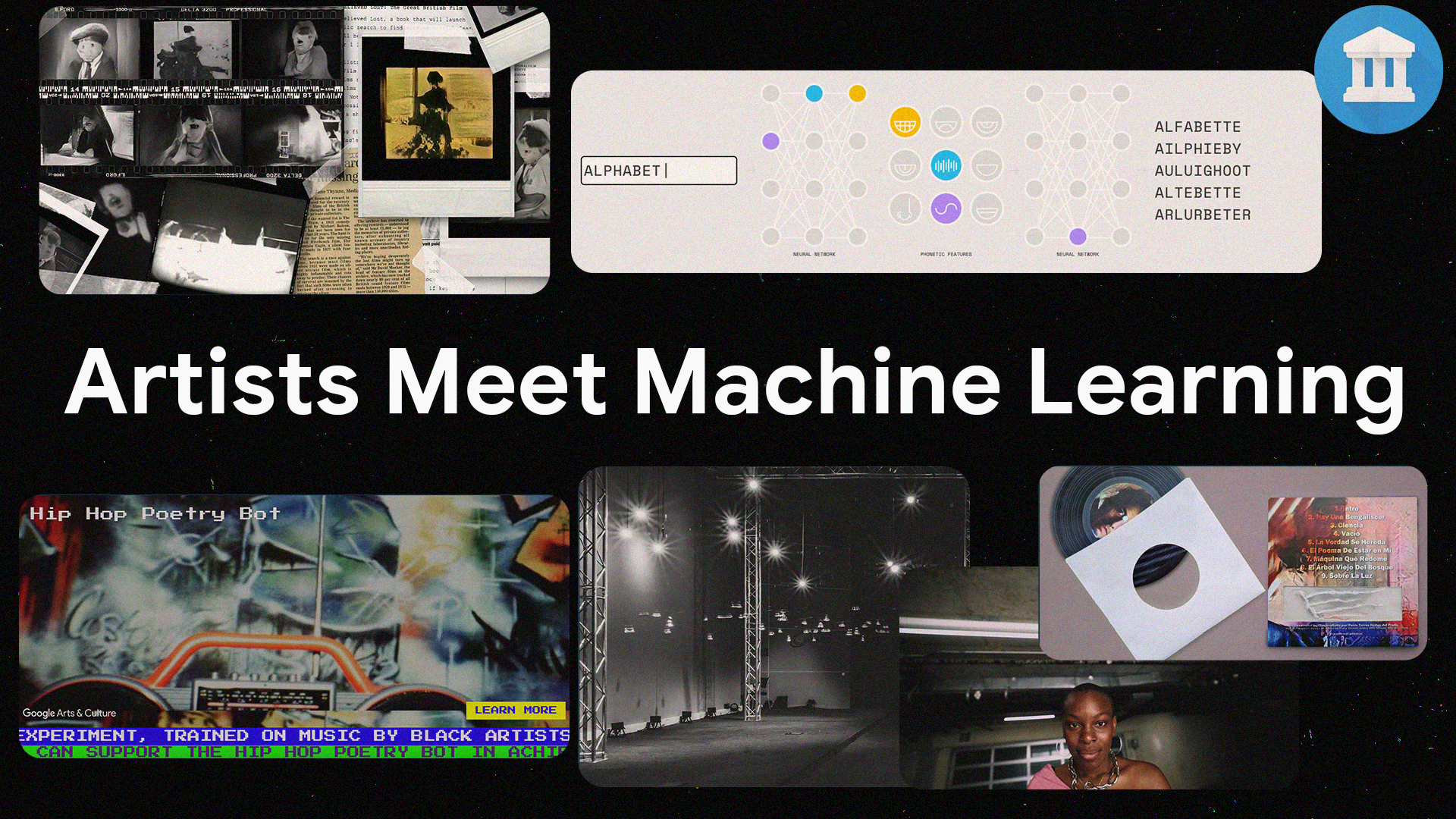 ***Grant Outcomes***
From January to May 2020, six international artists collaborated with Google creative technologists to explore machine learning techniques in film, poetry, sound art, and interactive storytelling, as part of an inaugural grant-making collaboration between Google Research and Google Arts & Culture. Today, we are publishing the outcomes of the grants.
Find out more about the residency
EXPLORE THE ARTISTS AND ARTWORKS
Hip Hop Poetry Bot by Alex Fefegha
The Hip Hop Poetry Bot is an AI research project, exploring speech generation trained on rap and hip hop lyrics by black artists. The Hip Hop Poetry Bot aims to use AI to explore the wealth of this material and present the artforms of rap and hip hop in new ways to the public. The research project built an algorithm trained on a personal dataset of lyrics that was used to generate the poetic responses to everyday questions.
Alex Fefegha runs a design invention studio in London. His work explores the collaborative interactions between humans and machines, and prototypes future visions into new tangible interactive experiences.
Explore the Hip Hop Poetry Bot
The Nonsense Laboratory by Allison Parrish
What does spelling sound like? The Nonsense Laboratory uses machine learning to let you poke at, mangle, curate, compress and elaborate the sounds of words spelled in text.
Allison Parrish is a New York-based computer programmer, poet, educator, and game designer. Her teaching and practice address the unusual phenomena that blossom when language and computers meet, with a focus on artificial intelligence and computational creativity.
Play with the Nonsense Laboratory
Let Me Dream Again by Anna Ridler
Let Me Dream Again is a series of experiments that use machine learning to try to recreate lost films from the fragments of early cinema from Hollywood and Western Europe that still exist.
Anna Ridler is an artist and researcher, working with collections of information, particularly self-generated data sets, to create new and unusual narratives in a variety of mediums. Listed by Artnet as one of nine "pioneering artists" exploring AI's creative potential, Anna lives and works in London, U.K.
Dhvāni by Budhaditya Chattopadhyay
Dhvāni is a responsive sound installation, comprising 51 interconnected temple bells trained to respond to audience presence and interaction.
Budhaditya Chattopadhyay is a sound artist based in Kolkata, India, and The Hague, The Netherlands. Through his practice, he explores how technology mediates the listening experience through large-scale installation and live performance. With Dhvāni, Budhaditya pursues a lifelong interest in the materiality, phenomenology, political-cultural associations, and the sociability of sound.
Neural Swamp by Martine Syms
Neural Swamp is a play staged across five screens, starring five entities who talk and sing alongside and over each other. Two of the five voices are trained on Martine's voice and generated using machine learning speech models.
Martine Syms is an American artist, who uses video and performance to examine representations of blackness across generations, geographies, mediums, and traditions. Her research-based practice frequently references and incorporates theoretical models concerning performed or imposed identities, the power of the gesture, and embedded assumptions concerning gender and racial inequalities.
Knots of Code by Paola Torres Núñez del Prado
Paola studies the history of quipus, a pre-Columbian notation system that is based on the tying of knots in ropes, as part of a new research project titled Knots of Code. The project's first work is a Spanish language poetry-album from Paola and AIELSON, an artificial intelligence system that composes and recites poetry inspired by quipus and emulating the voice of the late Peruvian poet J.E. Eielson.
Paola Torres Núñez del Prado is a Peruvian multimedia artist known for exploring the limits of sensorial experience using both traditional and contemporary technologies. Her work has been exhibited and performed at Malmö Art Museum, Alliance Française, and the Museum of Contemporary Art, Lima, among others.
***May 2019: Open Call***
As part of Google's ongoing commitment to support ambitious computer science research and the arts, Google Arts & Culture, in collaboration with Google AI, invite proposals from contemporary artists working with machine learning in their art practices.
Artists + Machine Intelligence (AMI) grants will support six artists with technical mentorship, core Google research, and funding. Artists will have the opportunity to work with Google creative technologists to develop and produce artworks over the course of a five-month period. Mentorship may cover technical processes like data collection and analysis, to pipeline design, and model deployment, and includes access to core Google U/X and technical research in generative and decentralized machine learning, computer vision, and natural language processing.
The final work and the 'Making Of' process (e.g. open-source code, public data set(s), learnings) will be featured in a dedicated section on the Google Arts & Culture platform.
Apart from any Google background IP (if relevant), artists will own IP of their artwork.
GRANTS INCLUDE
- Technical mentorship from a Google Creative Technologist
- Stipend of $10,000 USD gross for each artist
- Weekly advisory meetings via Google Hangout
- Development support and technical advisement with Kenric McDowell and Damien Henry
ELIGIBILITY
This opportunity is open to artists of all ages, at a critical juncture in their career, in which the opportunity to experiment with and receive resources from an AI research team would be impactful. Emerging artists, especially artists from underrepresented communities in art and technology, are strongly encouraged to apply. Artists may apply with supporting collaborators.
We encourage proposals that benefit from the latest research in generative machine learning, computer vision, and natural language processing. We are interested in exploratory ideas and proposals that leave room for refinement in collaboration with technologists and researchers. Both new and on-going projects are eligible.
The grant is envisioned as an engagement up to five months in length, starting September 2019. Support and technical expertise are provided from Google, however, the artist must have an active interest in working with machine learning, and deliver projects to agreed-upon milestones.
Candidates will be selected based on the strength of their proposal, namely: the originality of the machine learning applications suggested; the proposal's contribution to creative communities vis-a-vis shared methods, research and/or tools; and its ability to uniquely benefit from Google's research and technical mentorship.
If relevant, artists will grant the right to display their artwork on Google Arts & Culture as well as document the making of process.
Artists must be 18 years or older to apply. Google employees and their family members, and residents of
OFAC embargoed countries
are not eligible to apply.
TIMELINE
15 July 2019: Deadline for applications
15 August 2019: Email to selected artists
September 2019: Start of grant period
Deadline: Monday July 15, 2019 at 21.00 CET / 18:00 PST